An update from Cathy Penelton,
Executive Director of GSO Canada
Dear Global Shore family,
I wanted to update you on the impact of COVID-19 on our ministry in Guatemala and the students and staff that many of you sponsor monthly. Many have expressed care for your sponsor students, or asked about how you can support your sponsor student at this time. We also believe firmly in the power of prayer, and want to update you so that you can pray with us during this time.
GOD IS STILL AT WORK
Life in Guatemala has changed, much like it has in North America and around the world. Schools have been closed for the past several weeks, non-essential businesses are shut down, a 4 PM – 4 AM national curfew has been instated and restrictions have been placed on movement throughout the country. While low in comparison to other countries, Guatemala's case count continues to rise, meaning that these restrictions are unlikely to change soon. Many parents from our school community are unable to work due to these restrictions, causing financial hardship.
But God is still working. We believe He is continuing his work of transforming Guatemala. Twice, the president of Guatemala has called for a day of prayer and fasting as a nation, asking God to work in the midst of this pandemic. Our local church is broadcasting a daily message which has encouraged and connected many. Starting next week, our teachers will begin online teaching, as it seems that schools will not reopen for the foreseeable future. While this isn't ideal, we're grateful that our students are able to continue to progress academically and spiritually.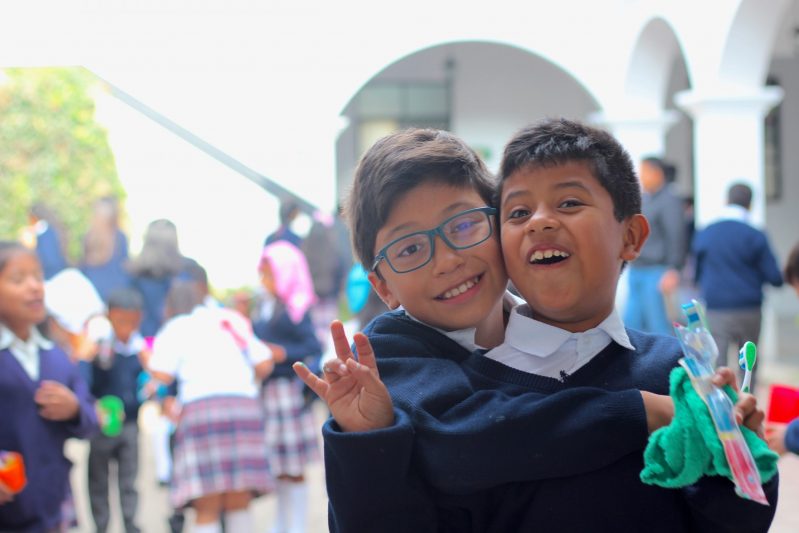 Daniel and Andrew, February 2020
GOD IS STILL FAITHFUL
While our school begins to function remotely through this crisis, our financial future is becoming less certain. We're preparing for many families to be unable to pay the $20/month tuition contribution for their children's education. We've also needed to cancel several fundraising events which we were praying would provide for our ministry. We thank God that every single one of our monthly student sponsors and teacher partners have continued their support (and we thank you from the bottom of our hearts). This and tuition contributions covers 40% of the cost of attending school, and the remaining 60% is covered by fundraising events and monthly donors — but with cancelled events, cancelled trips and anticipated losses in tuition, we are projecting a loss of $75,000 for the coming season.
We know that God has called us to continue in ministry, not just so that our 48 Guatemalan staff members can provide online learning for our students, but so that there will be a ministry for our students to return to when this crisis has passed. Knowing that God has called us, we are confident that He will provide, and want to invite you into this process of prayer and provision with us.
As an organization, we have begun to work on several initiatives that will help us and our community to move forward, but right now we ask you to join us in the following:
HOW YOU CAN HELP
Join us in prayer, asking God to provide as He has done time and again over the past 15 years
Give a one-time gift of any amount towards the shortfall of $75,000, standing in the gap with us
Become a monthly donor whose regular gift immediately helps and also covers ongoing ministry costs
If you are a student sponsor, consider increasing your student sponsorship from $38/month to $48/month (or another amount of your choice) to help offset the monthly tuition that many Guatemalan families are unable to give (click here to send an note to our donations staff, increasing your giving)
Thank you for your part in the ministry of Global Shore Opportunities. Together we  trust God in what he has called us to do. We know that this season will pass, and we believe God will see us through.
With gratitude,
Cathy Penelton
Executive Director, Global Shore Opportunities Canada
on behalf of the Board of Directors,
GSO Guatemala and GSO USA
"When I am afraid,
I will put my trust in You.
In God, whose word I praise,
in God I have put my trust;
I shall not be afraid."
— Psalm 56:3-4 (NASB)